Nick Sadek Sotheby's International Realty is pleased to announce our partnership with PBS KVIE to support their non-profit mission of offering a world of ideas, arts, and adventures to everyone in our region.
We are also excited to participate as the official Shirt Sponsor for the 2020 "A Day Fore Golf" event! A Day FORE Golf supports the nonprofit mission of PBS KVIE and provides an opportunity to join area business leaders and golf enthusiasts for a spectacular day of golf and games at Serrano Country Club, a par-72 championship golf course located in El Dorado Hills.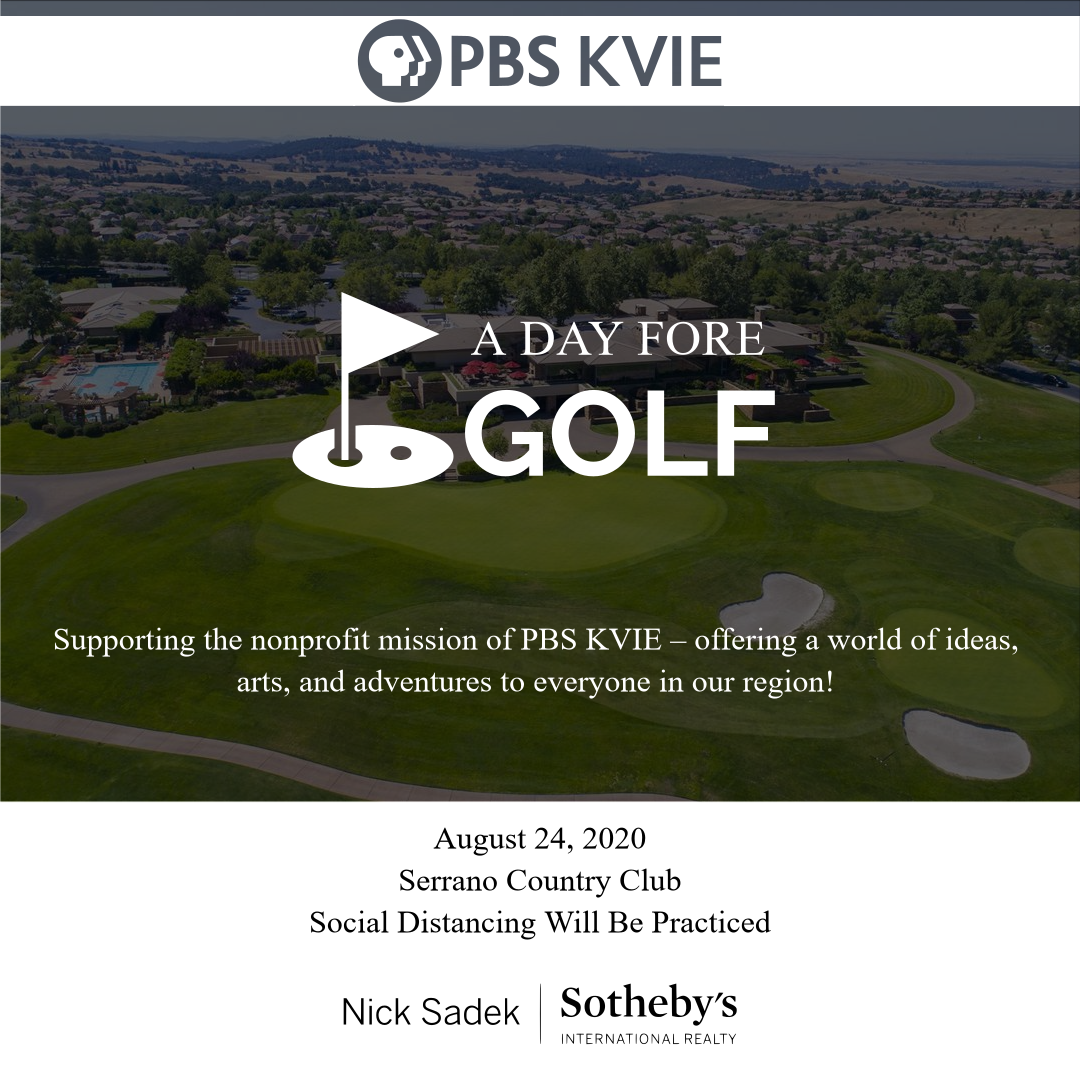 PBS KVIE is the PBS station serving the Sacramento-Stockton-Modesto television market, the 20th largest in the country. In addition to broadcasting programs like Antques Roadshow, NOVA, Nature, FRONTLINE, and PBS Kids shows, they are an active producer of content for a national audience in America's Heartland and locally with KVIE Arts Showcase, Studio Sacramento, Rob on the Road, and documentaries and shows under their ViewFinder series

We are member-driven.
Over 52,000 members, from Sacramento, Stockton, Modesto, the foothills, and everywhere in between, support us at every level. We know the power of people – member contributions make up 47 percent of our yearly budget. Our members make public television happen! Interested in supporting PBS KVIE and exploring the benefits of membership for yourself? Click here.
We have great volunteers.
Over 300 volunteers donate over 10,000 hours each year to help make great public television happen! Learn more about volunteer opportunities for groups and individuals.
We have been in the community for over 60 years.
We serve nearly 1.4 million households in our 16-county TV market, the nation's 20th largest. We serve viewers in an additional 12 counties, reaching 28 of California's 58 counties. We've been on air since February 23, 1959. Look back through 50 years of KVIE history here!) We launched our high-definition and digital service in June 2003, and we've added three more channels: KVIE2 (6.2), KVIE World (6.3), and KVIE PBS Kids (6.4). Click here for channel designations.
We are a nonprofit.
PBS KVIE is a 501(c)(3) organization and is also classified as a public charity under sections 509(a)(1) and 170(b)(1)(A)(vi) of the Internal Revenue Code. KVIE's Tax ID: 94-1421463
We have a mission.
PBS KVIE's mission is to inspire you to explore the world and connect with your community through the integrity of public media.
We seek out community input.
Our station management works with a volunteer board of directors and four community advisory boards. Learn more about our management and advisory boards here.