Granite Bay, California's most unique listing emerges on market this weekend for  $10 million. This listing features five acres of land dotted with three lakes that are home to the property's waterfowl, complete with a custom residence with nearly 16,000 square-feet of marble accented interiors with cathedral ceilings, balconies, gazebos, and the latest Smart Home technology .
Tricia Rossi of The Rossi Group at Nick Sadek Sotheby's International Realty listed the unusual home known as 'Swan Lakes Castle' in May 2020 for an undisclosed price before this weekend's re-launch.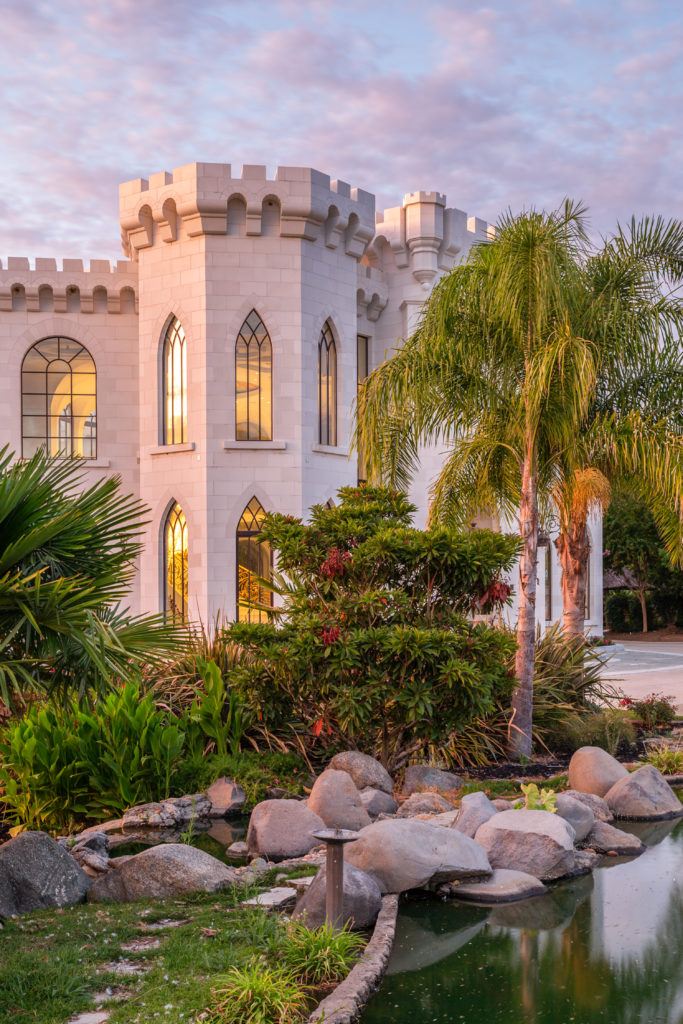 "This property has a distinguished history in the Sacramento area and embodies the city's role as a tech hub for the future with its location between San Francisco and Seattle," Rossi said. "It is ideal for anyone who appreciates modern conveniences, the opportunity to personalize their living and work spaces, as well as gracious living."
The estate is the highest priced listing of its kind in the Greater Sacramento market.
The gated 6-bedroom, 14-bath home sits just outside of the Los Lagos community.  Located at 8300 Moss Court, the home offers a unique opportunity for someone to live locally or to utilize the property as a live-work property due to being only 32 miles from the Sacramento International Airport.
The estate was originally constructed by Gary Cino, the owner of the 98 Cent Clearance Center chain as a one-of-a-kind fishing escape. The front lake has a depth of 26 feet, is filled with 1.1 million gallons of water that are stocked with bass, trout, sunfish, carp, and bluegill. Known as The Ponds at Granite Bay, the property complimented the fishing escape theme with deluxe suites for guests and a commercial kitchen.
The current owner-builder has continued to improve the property with a series of custom additions, including a pool, fitness center,  a Turkish hammam, and even a Swedish sauna. A fruit orchard (cherries, peaches, plums, apricots, apples, pears, and gooseberries), a citrus grove (lemon, mandarins, and oranges) and enhancing the grounds with magnolia, palms, birches, pines, willow trees, and polucarpus to complete the landscaping.
He transitioned the fishing compound into a European estate during the early 2010s working with Austrian architect Gillsburg Andrew and locating the classically trained craftsmen who would turn his vision of a stately home complete with wrought iron gates, grand staircases, gothic arches, domes, vaults, courtyards, and grand fireplaces into reality near Folsom Lake. Most building was completed in 2020 while special finishes continue to be finalized.
Additional amenities include a screening room, a temperature controlled wine cellar, a vaulted stateroom and a caretaker suite. There is also a ten car garage and vault from The Bank of America. The 14 peacocks, mandarin ducks, rooster, chicken and 8 swans are included with the property.
The unfinished space ideal for an office, home study space, hobby or craft room, treatment room, etc.. The property's thoughtful layout leaves room for a new owner's vision and input on final design.
The six bedroom suites each have their own heating and air conditioning zones with gas extending to the balconies to offer outdoor access year-round. While some of the Gothic windows open to the property, all have remote-controlled blackout shades. They also feature a variety of colors and types of the world's finest marble accents with soaking tubs and waterfall showers.
There are also tank and tankless water heaters and an Electrolux central vacuum system with an 8KW natural Generac gas generator. An elevator runs from the first floor to the rooftop. The home features a LUTRON system, a full intercom system, it is pre-piped and pre-wired for solar panels, and can be voice controlled. The alarm system includes glass breakers, smog, and fire for all doors and windows.
The property has natural gas, city water and two wells on the premises.
For serious inquiries, please contact Nick Sadek or Tricia Rossi of Nick Sadek Sotheby's International Realty in Sacramento, California. Nick can be reached at 916-966-4444 or emailed at nick.sadek@sothebysrealty.com and Tricia can be reached at 916-221-2580 or emailed at triciajrossi@gmail.com.
Presented By: