Are you looking for something to do in Sacramento on Friday evening July 14th?
Are you interested in art?
Are you interested in Net-Zero Energy?
Are you interested in touring new homes?
Do you appreciate the use of Feng Shui?
Do you want to meet the designer of this $2,500,000 Net Zero home?
Are you interested in building your own Net Zero home?
If you answered yes to at least one of these questions, you will be interested in this local Sacramento event!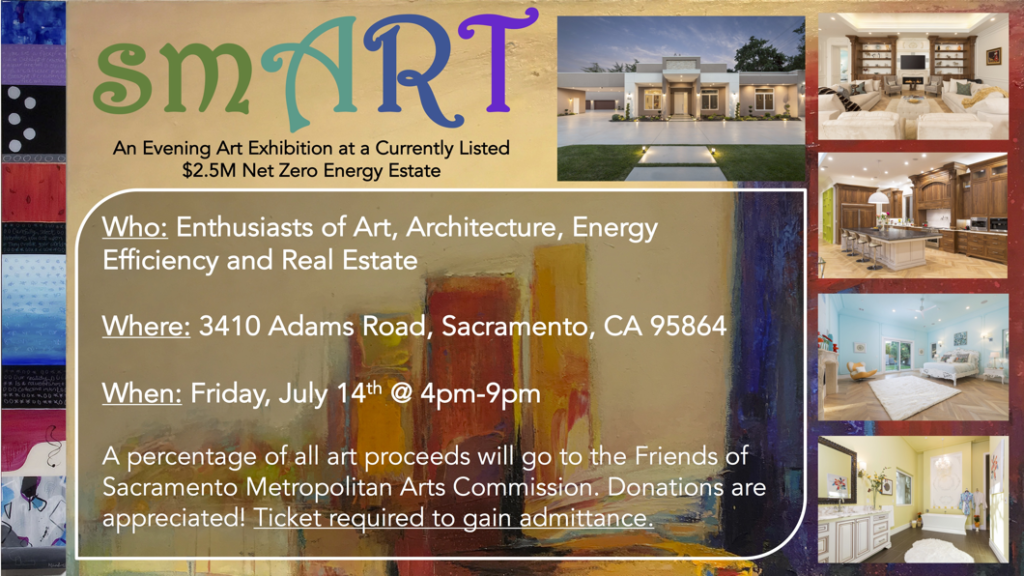 ART | ARCHITECTURE | ENERGY EFFICIENCY
Nick Sadek Sotheby's International Realty, ARTHOUSE Gallery and Sparrow Gallery are proud to present an evening event which blends the worlds of Art, Architecture and Energy Efficiency.
What is smART?
smART – a collaboration of high-end art and energy efficincy at a currently listed $2.5 custom net zero energy estate in Sacramento.
Guests are encouraged to enjoy music, hors d'oeuvres and drinks while exploring the high-end estate and pieces of local art. Both the estate and artwork are currently for sale. Attendees are also encouraged to donate to Friends of the Sacramento Metropolitan Arts Commission (SMAC) to support this exclusive event and a percentage of all sold art proceeds will also go to Friends of SMAC.
ORDER YOUR TICKET TODAY!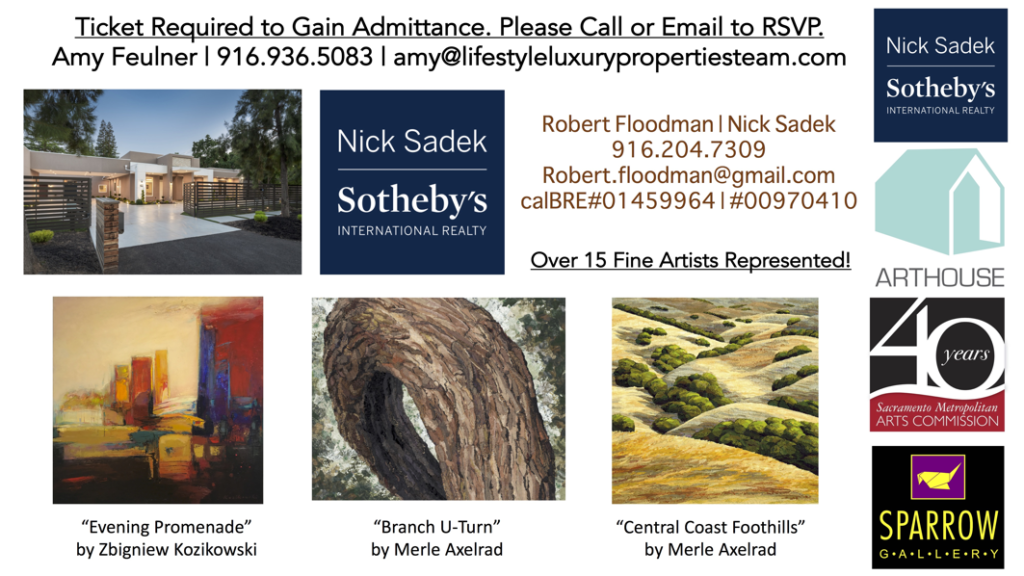 Please note:
A ticket is required to gain admittance. There is no charge for tickets but a donation to SMAC is highly encouraged.
RSVP IS A MUST
For more questions or to order your questions, please contact:
Amy at 916.936.5083 | Robert Floodman at 916.204.7309
or email her at Amy at lifestyleluxurypropertiesteam dot com to reserve your ticket.
What a great way to learn more about Net Zero Energy, give back to our community and support local artist as they display their fine artwork.
Oh, don't forget to check out the privacy glass in this guest bathroom.
We look forward to seeing you at this Sacramento Local Art Event and Home Exhibit this Friday, July 14th