Northern California's World Class Equestrian Center
Show | Event | Training Center
Equestrian owner Michele Vaughn spared no expense and focused on detail when developing her dream of a world class equestrian center where they could host different shows and events. Comfort of the horses and their riders and spectators all were considered when developing the plan for this world class equestrian facility. She knew it would be important to consult with the best equestrian designer so she reached out to Robert Jolicoeur to help her with all the different aspects of this amazing facility.
Vaughn wanted a place that shared her love of the equestrian lifestyle with comforts of making it her family's home, too. Vaughn's facility has become world renowned and very popular amongst the equestrian community. The facility is scheduled months and years in advance.
Vaughn can board over 60 horses on this 72 plus acres on gently rolling terrain.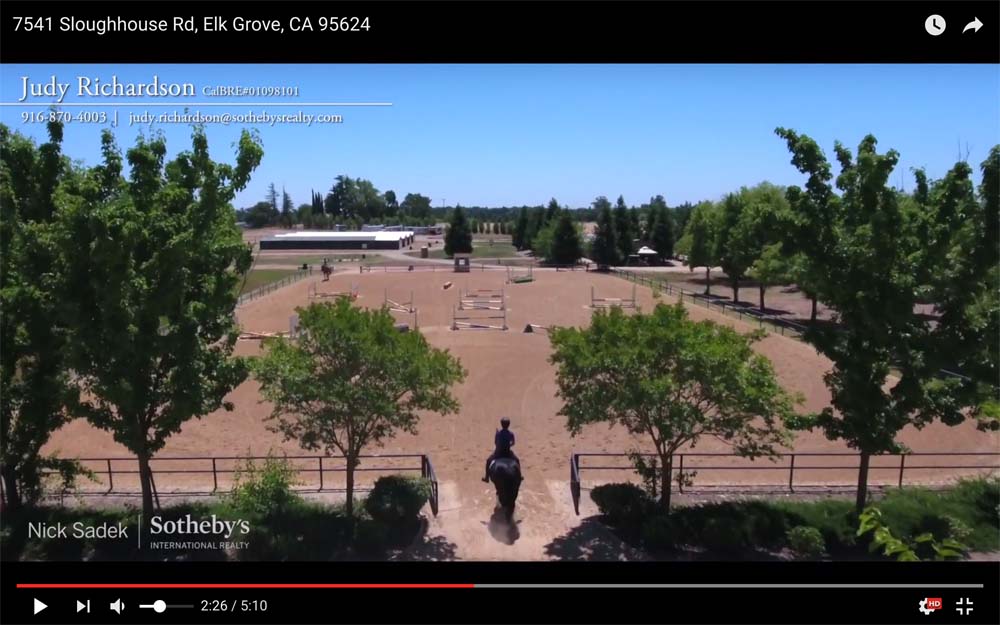 The expertly designed facility includes a host of amenities. Listed below is just a sampling.
Custom Home

Practical and Private Floor Plan
Smudge-free stainless steel appliances
3 French doors open onto covered veranda from kitchen
Grand Fireplace with pellet stove
Elegant custom mantle piece
4 bedrooms, 3 bathrooms
Tile Bathroom
Hardwood floors in kitchen and living room
Carpeted bedrooms
3 car garage
private entrance from outdoors and garage
Attached Guest House

Separate entry
Open living concept
Full kitchen
Spacious living room
Equestrian Facility

Covered Arena
Equestrian Spectator seating
Outdoor Arenas

2 arena offices used for show offices
Truex decking in front of offices
2 Luxury bathrooms

Men's with 2 stalls, handicap accessibility, 4 urinals and 2 sinks
Women's with 6 stalls, handicap accessibility, 2 sinks
Granite counter tops
Special non-slip floors
Commercial Kitchen – Cafe and Catering
2 beverage air refrigerators
2 beverage air freezers
Manitowoc ice maker
Ulkra-Glo warmer
Imperial deep fryer
Imperial gas 4-burner stove, oven, grill
Capital Aire hood/vent
Stainless steel sinks, countertops, and shelving
Ring One

Architecturally distinctive covered arena
220′ x 98′
Eurofit footing
Mirrors
Slanted tongue and groove wooden sidewalls
sprinkler watering system
Commercial lights
Speaker System
Fire Sprinklers
30′ x 180′ Covered deck
Spectator Seating area for over 500+
Judging booth with valuted ceilings, tile floors and windows overlooking arena
5 phone lines
Wheelchair ramp with powder coated handrails
Ring Four

300′ x 40′ jumping arena
Shade awning for mounted rides
Ring Five

230′ x 130′ Jumping arena
High perimiter fencining
Exercise Facilities

Covered Centaur Free Flow Equine exercise
Covered round pen
2 outdoor lounging pads
Interested parties should make an appointment for a guided tour 24 hours in advance. Allow plenty of time to experience the ranch lifestyle of this property located at 7541 Sloughhouse Road in Elk Grove, Ca 95624
To find out more about this property contact:
Judy Richardson – 916.870.4003 or Email
Nick Sadek Sotheby's International Realty, 9217 Sierra College Blvd., Suite 120, Roseville, CA 95661
MLS# 17005625
Directions: from Sacramento via Highway 50 South, take the Howe Avenue exit. Make a right on Howe Avenue. Turn left on Folsom Bouldvard, Make a slight right where Folsom Boulevard becomes Jackson Road. Turn right on Sloughhouse Road. Enter the gates to this elaborate equestrian facility and a place you can call home
Nearby you will find Brookside Equestrian Center and Murieta Equestrian Center.
Potential buyers should verify all information.
Checkout more photos on our Pinterest Page.